To God be the glory... for He surely deserves all of His praise and honor! It has been hard for me to care about any stats for quite awhile because of being overwhelmed by hundreds of spam comments, along with so many fake followers. The ones who want to follow just to boost their businesses I don't really mind. God can allow fellowship in many ways. And they are the ones that have to sell their product. But those who try to harm me or my friends are just simply cruel. Why do people waste such time that they could put towards work or fellowship the way the rest of us do?
WordPress is a great community! God has truly blessed us!
So I will praise Him for the 500 Follows
He has allowed for this blog… gaillovesgod… His blog!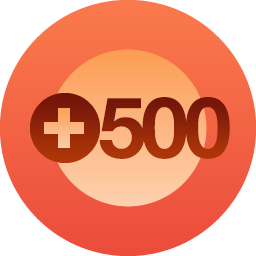 Congratulations on getting 500 total follows on
Your current tally is 501.
And a special thank you to Susan Ream of Nana's Love Notes
for being the one to make it 500 Follows!
I love reading your notes you write your granddaughters! 🙂
Susan Ream and 500 others
followed your blog gaillovesgod
As you also know, I'm so grateful for the love and support so many of you give in your comments. I still love that feature on the Stats page that shows the top 6 folks to comment. Right now they are
(Those are noted as they're seen on the Stats page under Comments by Authors)
It has taken countless hours of deletion and blocking of spammers, but it is well worth it so that God can allow me to know who is commenting, so that I can encourage them in return. Sometimes I have had to rescue genuine comments from the Spam and Trash section… so please… if you are still waiting for a response to a comment make sure that I even know. Forgive me for anyone I have missed and do not know it. With the Lord's help I am try to make sure to keep up with them, and to let you all know God loves you!
On that same page, and same section, if you click on the down arrow beside Comments by Authors, it changes to Comments by Posts & Pages. This allows you to see your top 11 blog posts that are most commented on. My blogs posts most commented on are:
(Notice a trend?? I do too. As loving and encouraging so many of you have been with me pouring out my heart and love to God, those Awards are certainly one of the ways God uses us to encourage one another! 🙂 However He chooses! Praise His Holy name!)
And lest you think it's ALL about awards, as though they are trivial, and therefore the blog must be too… notice #9 Losing… It? That was a very long note on how much I am losing so much… including my skill… my love… for communicating with others… sharing… encouraging. Even though I discussed something so personal, so many of you gave me love that just touched my heart in ways that I find hard to put into words. God used so many of you to strengthen me when I am often tempted to just give up and dream of flying home!
Every single comment means a great deal to me! And it is far more important that I have made known to as many of you as possible how much God loves you!!! So much!!
Thank you to each one who has made the 500 Follows possible!
You give glory to the One who surely deserves it!
And any glory He allows me to be a part of bringing Him…
HALLELUJAH!